Cyclodextrin-Shop is a division of AraChem, a fine chemicals company from the Netherlands: www.arachem.com.
Our teams have acquired a large expertise in the field of cyclodextrin chemistry. We offer high quality products from gram scale for research purpose to multi-kilogram quantities tailored to the special needs of the pharmaceuticals and the specialty fine chemicals industries.
We can supply a large variety of cyclodextrin derivatives from shelf or as custom synthesis products. You are invited to browse our catalogue to view the products offered.
Deal of the month: valid till 31 July 2021 

Products on Sale
Hot Sale !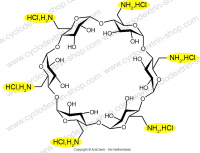 Pack size - Pricing
Hot Sale !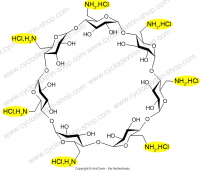 Pack size - Pricing
Hot Sale !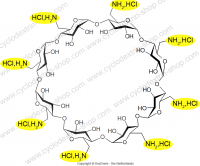 Octakis-(6-amino-6-deoxy)-gamma-Cyclodextrin octahydrochloride
Product Name

  :   Octakis-(6-amino-6-deoxy)-γ-Cyclodextrin

      octahydrochloride  ≥97%

Cat. Number

  :   CDexG-013

CAS Number

  :   156297-62-0

Molecular Formula

  :   C48H88N8O32.8HCl

Molecular Weight

  :   1580.93

Availability

  :  

In stock
On-demand pack size is available without surcharge.
This product is available in multi-grams / kilogram pack size, please inquire at request@cyclodextrin-shop.com.
Pack size - Pricing